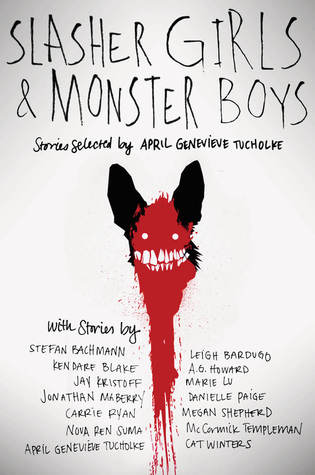 Slasher Girls and Monster Boys edited by April Genevieve Tucholke
8/18/15
Add it on Goodreads
Blurb
For fans of Stephen King, Neil Gaiman, Lois Duncan, and Daphne Du Maurier comes a powerhouse anthology featuring some of the best writers of YA thrillers and horror
A host of the smartest young adult authors come together in this collection of scary stories and psychological thrillers curated by Between the Devil and the Deep Blue Sea's April Genevieve Tucholke.
Each story draws from a classic tale or two—sometimes of the horror genre, sometimes not—to inspire something new and fresh and terrifying. There are no superficial scares here; these are stories that will make you think even as they keep you on the edge of your seat. From bloody horror to supernatural creatures to unsettling, all-too-possible realism, this collection has something for any reader looking for a thrill.
Fans of TV's The Walking Dead, True Blood, and American Horror Story will tear through tales by these talented authors:
Stefan Bachmann
Leigh Bardugo
Kendare Blake
A. G. Howard
Jay Kristoff
Marie Lu
Jonathan Maberry
Danielle Paige
Carrie Ryan
Megan Shepherd
Nova Ren Suma
McCormick Templeman
April Genevieve Tucholke
Cat Winters
The Creeping by Alexandra Sirowy
8/18/15
Add it on Goodreads
Blurb
Twelve years ago Stella and Jeanie vanished while picking strawberries. Stella returned minutes later, with no memory of what happened. Jeanie was never seen or heard from again.
Now Stella is seventeen, and she's over it. She's the lucky one who survived, and sure, the case is still cloaked in mystery—and it's her small town's ugly legacy—but Stella is focused on the coming summer. She's got a great best friend, a hookup with an irresistibly crooked smile, and two months of beach days stretching out before her.
Then along comes a corpse, a little girl who washes up in an ancient cemetery after a mudslide, and who has red hair just like Jeanie did. Suddenly memories of that haunting day begin to return, and when Stella discovers that other red-headed girls have gone missing as well, she begins to suspect that something sinister is at work.
And before the summer ends, Stella will learn the hard way that if you hunt for monsters, you will find them.
Bounce (Boomerang #3) by Noelle August
8/25/15
Add it on Goodreads
Blurb
Playing the occasional club gig just isn't cutting it for twenty-two-year-old cellist Skyler Canby, who's trying to support herself and her mother back home in Kentucky. Persuaded by her best friend Beth to accompany her on an audition for the first feature film launched by Blackwood Entertainment, she figures why not? Beth's a shoe-in for the lead, but maybe Skyler's newly dyed pink hair will help her stand out enough to score a small speaking part.
Never in her wildest dreams does Skyler imagine she'll land the lead role or that she'll have her shoes knocked off her feet by the kiss her audition partner, Grey Blackwood, plants on her—a kiss that feels very real and not at all "acted. "
After throwing a party that causes thousands of dollars of damage to his older brother's home, reckless musician Grey Blackwood gets roped into working off his debt on the set of his CEO brother's newest project. Grey spends his days fetching coffee and doing odd jobs around the studio, but he lives for nights when he performs with his band. He knows if he can stay focused, success as a singer is just around the corner. But that's tough with a distracting pink-haired girl occupying his every waking thought.
Skyler and Grey have every reason to resist each other. But, like a song neither of them can get out of their minds, they have no choice but to go where the music takes them.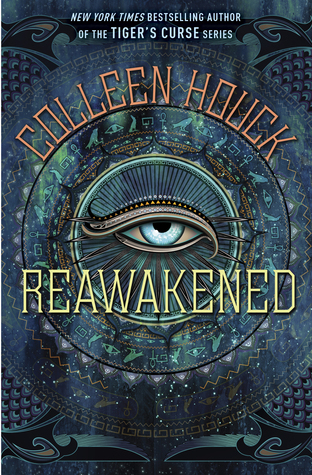 Reawakened by Colleen Houck
8/25/15
Add it on Goodreads
Blurb
When seventeen-year-old Lilliana Young enters the Metropolitan Museum of Art one morning during spring break, the last thing she expects to find is a live Egyptian prince with godlike powers, who has been reawakened after a thousand years of mummification.
And she really can't imagine being chosen to aid him in an epic quest that will lead them across the globe to find his brothers and complete a grand ceremony that will save mankind.
But fate has taken hold of Lily, and she, along with her sun prince, Amon, must travel to the Valley of the Kings, raise his brothers, and stop an evil, shape-shifting god named Seth from taking over the world.
From New York Times bestselling author Colleen Houck comes an epic adventure about two star-crossed teens who must battle mythical forces and ancient curses on a journey with more twists and turns than the Nile itself.