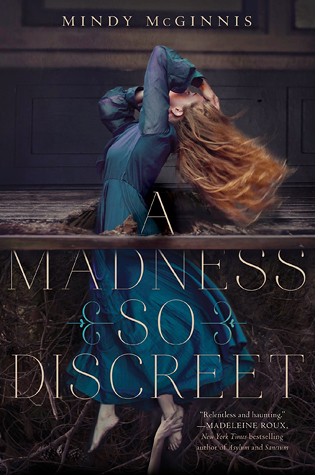 A Madness So Discreet by Mindy McGinnis
10/6/15
Add it on Goodreads
Blurb
Grace Mae knows madness.
She keeps it locked away, along with her voice, trapped deep inside a brilliant mind that cannot forget horrific family secrets. Those secrets, along with the bulge in her belly, land her in a Boston insane asylum.
When her voice returns in a burst of violence, Grace is banished to the dark cellars, where her mind is discovered by a visiting doctor who dabbles in the new study of criminal psychology. With her keen eyes and sharp memory, Grace will make the perfect assistant at crime scenes. Escaping from Boston to the safety of an ethical Ohio asylum, Grace finds friendship and hope, hints of a life she should have had. But gruesome nights bring Grace and the doctor into the circle of a killer who stalks young women. Grace, continuing to operate under the cloak of madness, must hunt a murderer while she confronts the demons in her own past.
In this beautifully twisted historical thriller, Mindy McGinnis, acclaimed author of Not a Drop to Drink and In a Handful of Dust, explores the fine line between sanity and insanity, good and evil—and the madness that exists in all of us.
Gathering Deep (Sweet Unrest) by Lisa Maxwell
10/8/15
Add it on Goodreads
Blurb
When Chloe Sabourin wakes in a dark, New Orleans cemetery with no memory of the previous days, she can hardly believe the story her friends tell her. They say Chloe was possessed by a witch named Thisbe, who had used the darkest magic to keep herself alive for over a century. They tell her that the witch is the one responsible for the unspeakable murders that nearly claimed the life of Chloe's friend, Lucy. Most unbelievable of all, they say that Thisbe is Chloe's own mother. As she struggles with this devastating revelation and tries to rebuilt her life, Chloe wants nothing to do with the magic that corrupted her mother…especially since she feels drawn to it.
Now, a new series of ritualistic killings suggests that Thisbe is plotting again, and Chloe is drawn unwillingly back into the mystical underworld of the French Quarter. To stop Thisbe before she kills again, Chloe and her friends must learn what they can from the mysterious Mama Legba. But when her boyfriend Piers vanishes, Chloe will have to risk everything and embrace her own power to save the one person she has left… even if that means bringing down her mother.
Always Second Best (Broken Dreams #2) by Elodie Nowodazkij
10/13/15
Add it on Goodreads
Blurb
Seventeen-year-old ballerina Emilia Moretti is tired of always being second best. And she's going to prove the world she deserves to be first. In her upcoming School of the Performing Arts showcase. In the eyes of her birth parents. And in the heart of the guy she loves. She spends hours rehearsing, hours dreaming about becoming number one, hours imagining how her entire life is about to change. But when nothing goes the way she planned, she'll need to realize what it really means to be first.
Eighteen-year-old Nick Grawski doesn't want to follow Daddy Dearest's rules any longer. He's going to prove he's meant to be a dancer—not a lawyer—and he is not going to stay away from Em just because his father demands it. He needs to show Em that—this time around—he's there to stay and that he won't break her heart again. Even when her world goes down to shit, even when he finds out his dad may have been trying to protect him all along, even if being there for one another is harder than falling in love.
ALWAYS SECOND BEST is a novel of hope and heartbreak and broken dreams. It's a novel about falling in love and discovering that being first isn't always what matters.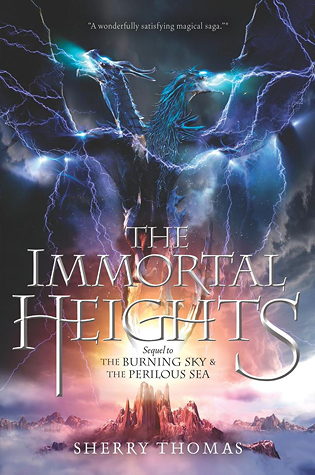 The Immortal Heights (The Elemental Trilogy #3) by Sherry Thomas
10/13/15
Add it on Goodreads
Blurb
In a pursuit that has spanned continents, Iolanthe, Titus, and their friends have always managed to remain one step ahead of the forces of Atlantis. But now the Bane, the monstrous tyrant who bestrides the entire mage world, has issued his ultimatum: Titus must hand over Iolanthe, or watch as his entire realm is destroyed in a deadly rampage. Running out of time and options, Iolanthe and Titus must act decisively to deliver a final blow to the Bane, ending his reign of terror for good.
However, getting to the Bane means accomplishing the impossible—finding a way to infiltrate his crypt in the deepest recesses of the most ferociously guarded fortress in Atlantis. And everything is only made more difficult when new prophecies come to light, foretelling a doomed effort....
Iolanthe and Titus will put their love and their lives on the line. But will it be enough?
With The Immortal Heights, Sherry Thomas brings the acclaimed Elemental Trilogy to its breathtaking conclusion.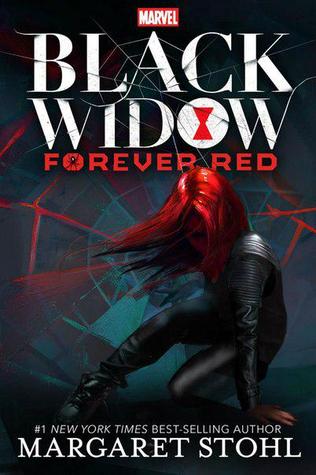 Black Widow: Forever Red by Margaret Stohl
10/13/15
Add it on Goodreads
Blurb
Enter the world of the Avengers' iconic master spy
Natasha Romanoff is one of the world's most lethal assassins. Trained from a young age in the arts of death and deception, Natasha was given the title of Black Widow by Ivan Somodorov, her brutal teacher at the Red Room, Moscow's infamous academy for operatives.
Ava Orlova is just trying to fit in as an average Brooklyn teenager, but her life has been anything but average.The daughter of a missing Russian quantum physicist, Ava was once subjected to a series of ruthless military experiments-until she was rescued by Black Widow and placed under S.H.I.E.L.D. protection. Ava has always longed to reconnect with her mysterious savior, but Black Widow isn't really the big sister type.
Until now.
When children all over Eastern Europe begin to go missing, and rumors of smuggled Red Room tech light up the dark net, Natasha suspects her old teacher has returned-and that Ava Orlova might be the only one who can stop him. To defeat the madman who threatens their future, Natasha and Ava must unravel their pasts. Only then will they discover the truth about the dark-eyed boy with an hourglass tattoo who haunts Ava's dreams. . . .
Black Widow:Forever Red features all the heart-pounding adventure readers expect from Marvel, written by #1 New York Times best-selling author Margaret Stohl. Uncover a new side of the Marvel Universe that will thrill loyal fans and newcomers alike, as Stohl reveals the untold story of Black Widow for the very first time.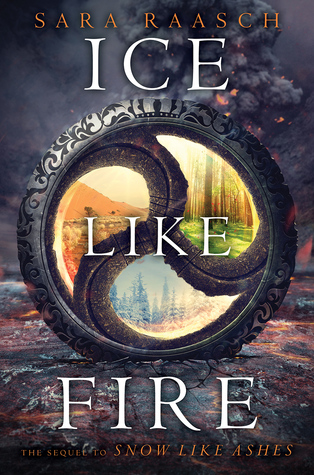 Ice Like Fire (Snow Like Ashes #2) by Sara Raasch
10/13/15
Add it on Goodreads
Blurb
It's been three months since the Winterians were freed and Spring's king, Angra, disappeared—thanks largely to the help of Cordell.
Meira just wants her people to be safe. When Cordellan debt forces the Winterians to dig their mines for payment, they unearth something powerful and possibly dangerous: Primoria's lost chasm of magic. Theron sees this find as an opportunity—with this much magic, the world can finally stand against threats like Angra. But Meira fears the danger the chasm poses—the last time the world had access to so much magic, it spawned the Decay. So when the king of Cordell orders the two on a mission across the kingdoms of Primoria to discover the chasm's secrets, Meira plans to use the trip to garner support to keep the chasm shut and Winter safe—even if it means clashing with Theron. But can she do so without endangering the people she loves?
Mather just wants to be free. The horrors inflicted on the Winterians hang fresh and raw in Januari—leaving Winter vulnerable to Cordell's growing oppression. When Meira leaves to search for allies, he decides to take Winter's security into his own hands. Can he rebuild his broken kingdom and protect them from new threats?
As the web of power and deception weaves tighter, Theron fights for magic, Mather fights for freedom—and Meira starts to wonder if she should be fighting not just for Winter, but for the world.
Goddess (Calypso #2) by Julie Anne Lindsey
10/13/15
Add it on Goodreads
Blurb
On the other side of death, is destiny.
Callie Ingram is spending her senior year focused on one thing: swimming. Her skill as a competitive swimmer is going to secure a scholarship and her future, or so she hopes. She has big plans, and Liam Hale, her gorgeous new neighbor, isn't going to affect them. But when Callie sees Liam beheading someone, she learns his family has a secret that will change everything. The Hales are Vikings, demi-gods who've been charged by The Fates to find their new destined leader.
Callie's caught in the middle of a budding Norse apocalypse, in love with Liam Hale and desperate to protect her best friend…who the Hales believe is marked for transformation. Putting the clues together as fast as she can, can discovers she has the power to rewrite destiny, for herself and all humankind.
Seek Me In Shadows (The Boundless Trilogy #2) by Danielle Ellison
10/20/15
Add it on Goodreads
Blurb
Neely Ambrose thought she was done with secrets. When she escaped the Compound, she also believed she'd escaped a future built on lies and deceit. She was wrong; the world outside isn't much better. In fact, it may be worse.
All Neely wants is to safely deliver the people of the Compound into Remnant camps so she can go start a life of her own with Thorne. But that's before the Remnants start dying around her, before camps are destroyed just after she's left them, before she notices a strange bird carving at the site of each attack, and before Thorne is taken.
The Mavericks believe Thorne is dead, taken by the Elders who will stop at nothing to find Neely, but she's determined to prove them wrong.
But the only clue she has to find him is a bird carved into the last place where anyone saw Thorne. As she starts a journey to find him, she learns the birds are a symbol for a secret group that's made a home in the shadows. A group that even Xenith doesn't know about, that the Remnants won't talk about, and that Neely feels may have a plan of their own — and that plan may involve her.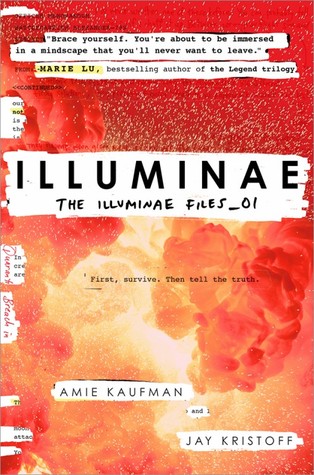 Illuminae (The Illuminae Files #1) by Amie Kaufman & Jay Kristoff
10/20/15
Add it on Goodreads
Blurb
This morning, Kady thought breaking up with Ezra was the hardest thing she'd have to do.
This afternoon, her planet was invaded.
The year is 2575, and two rival megacorporations are at war over a planet that's little more than an ice-covered speck at the edge of the universe. Too bad nobody thought to warn the people living on it. With enemy fire raining down on them, Kady and Ezra—who are barely even talking to each other—are forced to fight their way onto an evacuating fleet, with an enemy warship in hot pursuit.
But their problems are just getting started. A deadly plague has broken out and is mutating, with terrifying results; the fleet's AI, which should be protecting them, may actually be their enemy; and nobody in charge will say what's really going on. As Kady hacks into a tangled web of data to find the truth, it's clear only one person can help her bring it all to light: the ex-boyfriend she swore she'd never speak to again.
Told through a fascinating dossier of hacked documents—including emails, schematics, military files, IMs, medical reports, interviews, and more—Illuminae is the first book in a heart-stopping, high-octane trilogy about lives interrupted, the price of truth, and the courage of everyday heroes.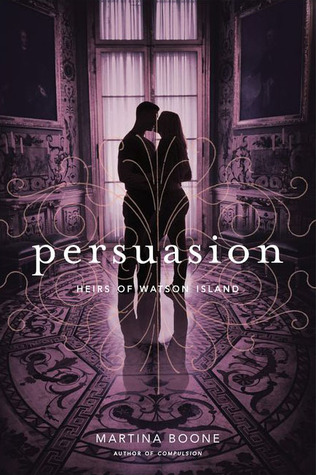 Persuasion (The Heirs of Watston Island #2) by Martina Boone
10/27/15
Add it on Goodreads
Blurb
Romeo and Juliet meets The Raven Boys in the spellbinding second novel in the Heirs of Watson Island trilogy that "skillfully blends rich magic and folklore with adventure, sweeping romance, and hidden treasure" (Publishers Weekly, on Compulsion).
Grieving the death of her godfather and haunted by her cousin Cassie's betrayal, Barrie returns from a trip to San Francisco to find the Watson plantation under siege. Ghost-hunters hope to glimpse the ancient spirit who sets the river on fire each night, and reporters chase rumors of a stolen shipment of Civil War gold that may be hidden at Colesworth Place. The chaos turns dangerous as Cassie hires a team of archeologists to excavate beneath the mansion ruins. Because more is buried there than treasure.
A stranger filled with magic arrives at Watson's Landing claiming that the key to the Watson and Beaufort gifts—and the Colesworth curse—also lies beneath the mansion. With a mix of threats and promises, the man convinces Barrie and Cassie to cast a spell there at midnight. But what he conjures may have deadly consequences.
While Barrie struggles to make sense of the escalating peril and her growing and forbidden feelings for Eight Beaufort, it's impossible to know whom to trust and what to fight for—Eight or herself. Millions of dollars and the fate of the founding families is at stake. Now Barrie must choose between what she feels deep in her heart and what will keep Watson's Landing safe in this stunning addition to a series filled with "decadent settings, mysterious magic, and family histories rife with debauchery" (Kirkus Reviews, on Compulsion).